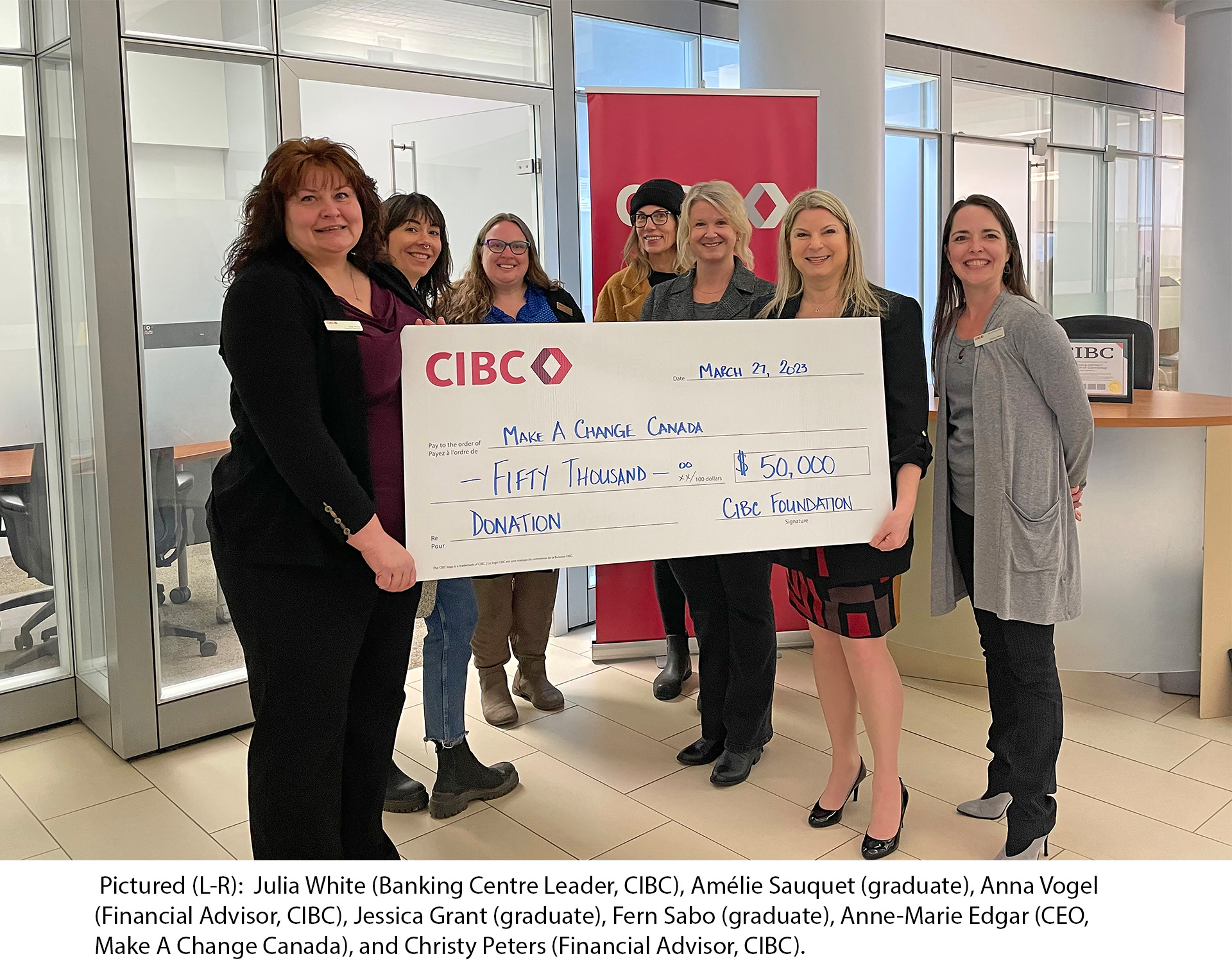 NELSON, BC--March 27, 2023, Staff and graduates from Make A Change Canada met with CIBC representatives in Nelson, British Columbia, to acknowledge and thank the CIBC Foundation for their generous donation of $50,000 in support students participating in their online Certificate in Applied Web Development and Design (AWDD) program.
Make A Change Canada is the pioneer in providing online employment, self-employment, and skills training to Canadians facing barriers to employment. With a rich history of over 17 years serving Canadians from coast to coast, the organization also works with employers by providing training and support in inclusive employment, and by facilitating job placements with employers working to build inclusive teams.
Funding from this special initiative is supporting students in the current intake of the program by providing bursaries and other supports, such as essential technology and adaptive equipment. This donation will enable students to upskill or reskill in the in-demand area of applied web technology, and gain the practical experience they need to find meaningful employment or advance in their careers.
"We are very pleased to have this important support from CIBC for this valuable skills training program," said Anne-Marie Edgar, CEO, Make A Change Canada. "This is a wonderful example that shows how, by providing the support that individuals need to succeed, we can work together to create opportunities for career advancement and higher earnings for individuals and their families from all across Canada, while helping to address critical labour shortages that exist throughout Canada today."
Make A Change Canada's AWDD programs include a six-month introductory and a four-and-a-half-month advanced program that are offered twice annually. Both programs offer industry-relevant curriculum and e-learning content complete with challenging practicum projects for students. What makes this program unique is that it provides a supportive and flexible learning environment for students who face a range of personal and systemic barriers to employment. By providing an accessible, online program, Make A Change Canada is helping to create an extra level of opportunity for individuals who may otherwise have difficulty accessing skills training programs in their communities due to barriers, such as mobility issues, family or caregiving responsibilities, or a lack of transportation options.
"The CIBC Foundation is proud to support Make A Change Canada and the students of the AWDD program," said Ronan Ryan, Executive Director, CIBC Foundation. "The accessibility of this program is helping to create a world without limits to ambition by supporting students as they gain valuable skills, experience and ultimately meaningful employment."
Graduates of the program are successfully establishing themselves in a wide range of meaningful and sustainable careers in fields that include website design, digital marketing, administration, project management, customer service, information technology, and the arts. Graduates' work may be viewed on the organization's website from the graduate showcase web page (https://www.makeachangecanada.com/graduate-showcase).
The next intake for the AWDD program begins on May 1, 2023. Interested applicants can learn more about the program by calling 1-888-927-7473 ext. 2 or emailing service personnel at contact@studyanywhere.ca.
---
More About Make A Change Canada/Faire un Changement Canada
Make A Change Canada, established in 2005, is a registered Canadian charity that provides employment, self-employment, and skills training to Canadians who face barriers to employment. Make A Change Canada is accredited under the Imagine Canada Standards Program and is one of just over 250 charitable organizations and nonprofits in Canada to have achieved this important designation. Make A Change Canada is exempted from certification under the Private Training Institutions Branch (PTIB), Ministry of Advanced Education, Skills and Training, and is a certified educational institution under Employment and Social Development Canada (ESDC). Clients include people living with disabilities, youth, Indigenous Peoples, racialized individuals, stay-at-home and single parents, members of the LGBTQ+ communities, older workers, and people living in rural or remote areas. For more information, please visit www.makeachangecanada.com.
Facebook: https://www.facebook.com/MakeAChangeCanada
Twitter: @MakeAChangeCAN
Instagram: https://instagram.com/makeachangecanada
LinkedIn: https://www.linkedin.com/company/make-a-change-canada
Subscribe: bit.ly/subscribe-to-make-a-change
Donate: bit.ly/give-to-make-a-change
Contact
Anne-Marie Edgar, CEO
Make A Change Canada/Faire un Changement Canada
Nelson, B.C.
Direct: (250) 352-1378
Toll Free: 1-888-9-ASPIRE (1-888-927-7473)
Email: amedgar@makeachangecanada.com
March 27,2023