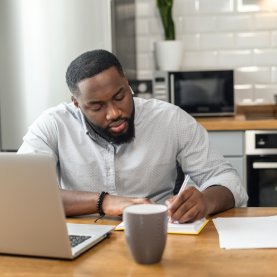 © Make A Change Canada. All Rights Reserved.
You find the perfect job posting, create a beautifully designed résumé, follow all the instructions for applying, and even apply early! Yet, much to your surprise, you never receive a call for an interview and are left wondering why you were overlooked.
There are a number of reasons why a résumé can get overlooked, but one simple explanation is that the employer is using an applicant tracking system (ATS). An ATS is used to filter out résumés and prevent most of them from ever reaching the hiring manager. It's possible your carefully polished résumé was eliminated because it was too heavily designed or you simply used the wrong font.
Because of the widespread use of the ATSs, it is important for job seekers to understand how to create a résumé that will succeed with this technology. Your resume will also be read by an actual hiring manager after it passes the ATS, so you need to keep this in mind, too. Your resume will need to resonate, not only with an ATS, but with the person who makes the decisions about which candidates will be invited to participate in an interview. But remember, the overall goal of the résumé remains the same: to open the door to a job interview.
In this article we provide seven key strategies you can use to create an ATS-friendly résumé that will bring you closer to getting an interview, and ultimately your new job. The seven key strategies include: understanding the ATS process, maximizing your chances, writing for clarity, choosing a compatible resume format, avoiding design elements, using keywords, and choosing the right file format and file name.
Seven Key ATS Strategies
Understanding the ATS Process
 

It is important to be aware of the do's and don'ts when creating your résumé so that it has the greatest chance to pass the ATS test. With the high volume of job applications that hiring managers receive, the automated system is used as a time-saving measure to filter through incoming résumés and select the top few candidates for a position.

For organizations that use an ATS, every résumé received is passed through the system for filtering. The ATS tracks, screens, and scores all of the résumés. Then, any résumés that make it past the ATS are screened by those in charge of hiring.

Therefore, it is only after the ATS process is completed that a hiring manager will become involved and decide which candidates are moving forward to the next step in the hiring process.

Tip: Create a custom ATS-friendly résumé for every job you are applying for, and apply the seven strategies in our article each time.

Maximizing Your Chances
 

To maximize your chance of being shortlisted for a role, it is important to focus only on those job opportunities that are a good fit with your skills and experience. The idea is to show how you are qualified for a specific opportunity, rather than submitting your application for jobs that don't actually interest you, or for which you lack the required skills or education.

Avoid applying to numerous roles and positions within the same company, because the ATS tracks all this information. If you are applying to all of a company's job postings, their recruiters may determine you are not properly assessing your qualifications or are overestimating your actual abilities.

Tailor your résumé to the job description, and try to demonstrate that you have thoughtfully considered your qualifications and suitability for the position.

Tip: Ensure that you accurately describe your qualifications, skills, and work history, while illustrating that you are well suited for the role.

Writing for Clarity
 

Keep your résumé simple and clear with straightforward wording, so the ATS can scan your key information easily. Use a clean font such as Calibri, Helvetica, Georgia, or Times New Roman. Compared to more elaborate fonts, these are the best choices for passing the ATS filters. Be sure to avoid special characters that can be misread by the ATSs, such as a percentage sign, exclamation mark, or equal sign.

Organize your résumé with headings in bold or italic, using the standard 'Work Experience' and 'Education' subtitles. Do not underline words or phrases, because certain lowercase letters are more difficult for the ATS to read when underlined. Underlined text can also be confused with hyperlinks for websites or email addresses. If you do include any hyperlinks, be sure to include the full URL link.

In addition, the clarity of a straightforward, readable format is an advantage when the résumé moves forward to the human resources staff or a hiring manager. Even with an ATS, hiring managers still contend with large numbers of applicants. Generally, they will quickly review any remaining résumés and determine which applicants will proceed to the next step in the hiring process.

Tip: Be aware that ATSs will strip all linking from your résumé, but the links that are spelled out in full will be retained in plain (unclickable) text. Therefore, if you are going to include URL links in your résumé, include the full URL link (https://www.LinkedIn. . .your profile), but do not link words within your résumé, such as 'See My LinkedIn Profile here.' Unfortunately, this defeats the purpose of trying to lead recruiters to any supplementary information.

Choosing a Compatible Resume Format
 

The chronological résumé format is the most compatible with ATS software. Another option is to use a hybrid résumé. It is important to note that the use of the functional résumé format—which does not list any dates within your employment history—is highly discouraged.

In order for the ATS to interpret your work history and match it to the job requirements, it is imperative that your job titles have clear dates and are listed in chronological order. Start the work history section with your most recent job at the top of this section.

A hybrid résumé lists key skills first and then lists work history in chronological order. Functional or skills-based résumés are recommended for job seekers who are changing careers or those who have large gaps in their work history.

Functional résumés are most difficult for the ATS to read and interpret and are much less likely to be moved forward to the next step in the hiring process.

Tip: The best choice for your ATS-optimized resume is the chronological or hybrid resume. Avoid using the functional resume format.

Avoiding Design Elements
 

Although visually appealing, the use of pre-designed templates for résumés that include graphic elements such as images, tables, and columns should be strictly avoided. Use of graphic elements may automatically eliminate your résumé early on in the process. The ATS is unable to read an image, making it impossible to interpret information in columns or tables. Even using columns, page headers and footers, or graphics can cause parsing errors or misinterpretation in the ATS.

The system instantly rejects what it doesn't want, and this is bad news for you and your résumé! As a result, your highly designed résumé will likely be rejected early in the filtering stage. The advice from recruiters and job search experts is to avoid using these attractive but ineffective résumé formats.

Tip: Most ATSs will convert your résumé into a text-only file, so any elaborate design elements will be lost either way.

Using Keywords
 

Be sure to carefully read the job description and note the qualifications, skills, and competencies the employer requires. These will include technical and hard skills, such as bookkeeping, customer service, coding, or graphic design. The employer may also be looking for a specific formal certification or degree. Don't forget to determine if the employer is requiring a specific number of years of experience.

Take the time to match the wording on your résumé to the job description. To find potential keywords, begin by highlighting the requirements that match your qualifications and work experience. When preparing your résumé content, use the exact wording that is in the job description. Take note of acronyms or abbreviations that are used in the job description, such as MBA or RSW, and mirror this format by using these acronyms in your résumé.

It is equally important to avoid keyword stuffing, or peppering your résumé with keywords like 'marketing' or 'management' repeatedly in white font. Your résumé may pass the ATS test; however, a recruiter will most likely see this as cheating.

One helpful idea is to create a 'Skills' section to help you build some relevant keywords into your resume for hard skills like HTML coding, Photoshop, or a second language.

Tip: Take your résumé one step further in the screening process and spell out a full qualification and then place the abbreviation in parentheses after it; for example, Project Management Professional (PMP). This will help ensure that your qualifications are noticed and recognized.

Choosing the Right File Format and File Name
 

Be sure to read the job posting carefully and note the instructions for submitting your job application online. The instructions may specify the required file format and even how you should name the file. Most often, the preferred file format is either a PDF or Microsoft Word file (.docx).

If you see a job posting that does not specify the file format, the safest file format to use is Microsoft Word. This is because some ATSs are unable to read PDF documents.

Tip: If you need to name your file, the best practice is to include your full name and the job title of the position you are applying for in your file name.
Summing it up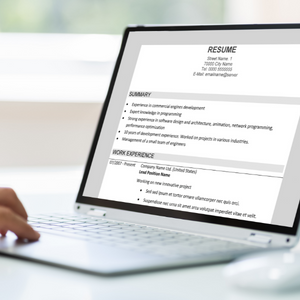 The ATS system is often the gatekeeper between you and your next job opportunity! Preparing a professional résumé to effectively apply for jobs while also passing the ATS filters can take a lot of work, but it is important to get this right. Once you have the ideal résumé that looks and reads professionally, while being capable of passing the ATS sorting system, you will have a better chance at being selected for the next step: the job interview. Rest assured, once you are hired into the job of your dreams, you will realize that all of this attention to detail was well worth the effort.
And remember, if you need guidance with exploring your career options, consider reaching out to a career or business coach, a career services organization in your local community, or our online career assistance and skills training programs that can help you identify and work toward your employment or self-employment goals.
Resources
Make A Change Canada provides online supportive programs for individuals who are facing barriers to employment across Canada.
Online Career Exploration and Job Search Resources for people facing barriers to employment:
If you experience barriers to employment, you could be eligible for services. Visit AnyCareer.ca for more information and to apply online.
Online Skills Training:
Make A Change Canada offers online employment and job search assistance and web/digital skills training.
Online STEM Education:
The online Certificate in Web and Digital Technologies Programs (Foundational and Advanced levels) are ideal for those who wish to gain valuable web/digital skills for employment or self-employment. Visit StudyAnywhere.ca for more information and to apply online.
One-on-one Support:
When you join Make A Change Canada's Web and Digital Technologies Certificate Programs, you will benefit from the support of dedicated course instructors and teaching assistants. Students receive ongoing assistance during our weekly classroom sessions, online chat or email, and one-on-one assistance sessions. Our overall objective is to help support you in achieving your career and learning goals.
Employment Assistance:
Make A Change Canada's AnyCareer.ca website gives those with barriers to employment access to helpful resources from the comfort and convenience of home. Submit your online application and get career ready today!